YIELD: SERVES 6-8
The Best Classic Meatloaf Recipe with BBQ Glaze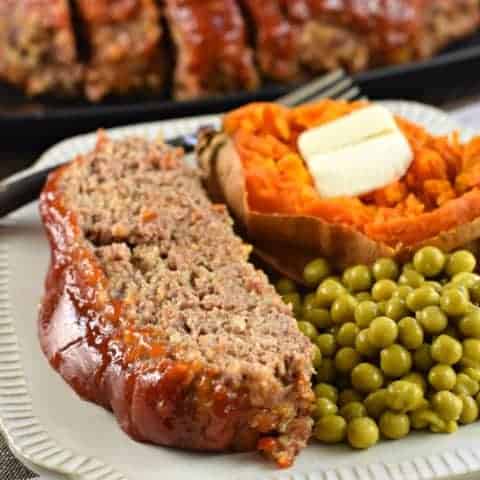 TOTAL TIME
1 hour
5 minutes
Tender, flavorful Classic Meatloaf recipe with a sweet and tangy bbq glaze. This Perfect Meatloaf is better than you remember, give it a try tonight!
Ingredients
2 lb Lean Ground Beef (90% or more)
1 Tbsp Minced Onion
1 tsp Garlic Powder
1 cup Quick Cook Oatmeal
1 1/2 cups Shredded Cheddar Cheese
1/2 cup Milk (any kind)
2 large Eggs
Salt and Pepper (to taste)
1/2 cup Ketchup
1/2 cup Light Brown Sugar, packed
1 tsp Yellow Mustard
Instructions
Preheat oven to 350 degrees F.
Combine your lean ground beef (90% or more) in a bowl with minced onion, garlic powder, quick cook oats, cheddar cheese, milk, eggs, salt and pepper. Mix by hand or with a wooden spoon until combined.
Line a large baking sheet or shallow baking pan (make sure it has at least a 1″ side to collect any moisture or glaze) with aluminum foil. Shape your meat mixture into a loaf.
In a small bowl, whisk together 1/2 cup ketchup, light brown sugar, and yellow mustard. Spoon glaze over the top of your meatloaf.
Bake in a preheated oven for about 55 minutes. Serve hot and enjoy!