YIELD: 12 BARS
The Best Lemon Bars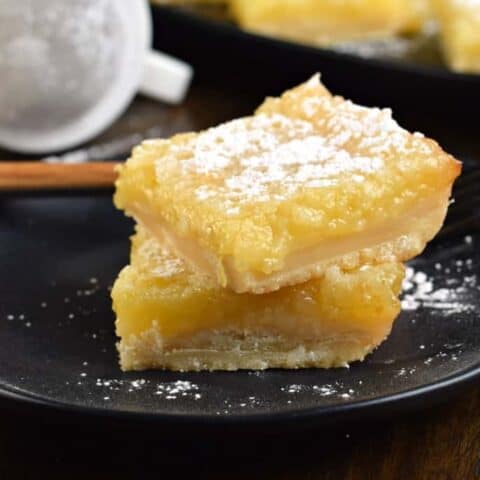 If you're looking for the best Lemon Bars recipe, this one is it. Buttery shortbread crust with a sweet and tangy lemon filling!
Ingredients
FOR THE CRUST:
1/2 cup unsalted butter, cold
1 cup all-purpose flour
1/4 powdered sugar
FOR THE FILLING:
1 cup granulated sugar
2 Tbsp all-purpose flour
1/2 tsp baking powder
2 large eggs
2 Tbsp lemon juice
1 tsp lemon zest (about 1 lemon worth)
FOR THE TOPPING:
3/4 cup powdered sugar, plus extra for dusting
1 Tbsp lemon juice
Instructions
Line an 8 x 8 inch (or 9″ square pan) with foil or parchment paper. Set aside.
Preheat oven to 350 degrees F.
In a large mixing bowl, cut together the cold butter, all-purpose flour, and powdered sugar. Mixture may be crumbly. Press into bottom of prepared baking dish.
Bake crust in oven for about 15 minutes.
While crust is baking, make the lemon filling. Combine granulated sugar, flour, baking powder, eggs, lemon juice, and lemon zest.
Remove crust from oven and immediately pour mixture over the baked crust. Return baking pan to oven for an additional 20 minutes, or until edges are golden brown.
Remove bars from oven. To make glaze, whisk together powdered sugar with lemon juice. Drizzle over warm bars. Cool completely then refrigerate for about 2 hours.
When chilled, remove from pan by lifting the foil (or parchment) and cut into squares. Sprinkle with powdered sugar and enjoy!