YIELD: 20 SERVINGS
Red Velvet Cheesecake Cake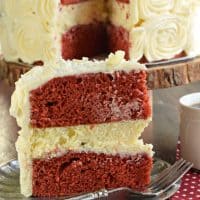 The BEST Red Velvet Cheesecake Cake recipe starts with two layers of homemade red velvet cake with a layer of cheesecake in the middle. Topped with delicious cream cheese frosting and white chocolate curls, you'll want to make this cake for friends and family every holiday!
Ingredients
FOR THE CAKE
1 1/4 cup oil
1 1/4 cup buttermilk
2 eggs
1 tsp vanilla
1 tsp vinegar
1/2 tsp red gel food coloring
2 1/2 cup flour
1 1/2 cup sugar
1 tsp baking soda
1 tsp salt
2 Tbsp unsweetened cocoa powder
FOR THE CHEESECAKE
2 pkg (8oz each) cream cheese, softened
2/3 cup granulated sugar
pinch of salt
2 eggs
1/3 cup sour cream
1/3 cup heavy cream
1 tsp vanilla extract
FOR THE FROSTING
1 cup butter, softened
8 oz cream cheese, softened
1 tsp vanilla extract
4 cups powdered sugar
1/4 cup heavy cream
Instructions
Start by making the cheesecake. Preheat oven to 325 degrees. Fill a large roasting pan with about one inch of water and place it in the lower 2/3 of the oven.
Prepare springform pan by spraying pan with nonstick baking spray and line bottom (inside) with a circle of parchment paper.
Beat cream cheese with granulated sugar for 2-3 minutes until creamy. Add in salt and eggs, one at a time, beating well after each addition. Beat in sour cream, heavy cream and vanilla.
Pour into prepared 9-inch springform pan. Place pan in center of oven.
Bake cheesecake for 45 minutes. Turn oven off and let cheesecake sit in oven for an additional 30 minutes. Remove and cool completely on counter.
When cooled,remove springform pan and cover cheesecake with plastic wrap. Place cheesecake into the freezer for several hours or overnight.
For the cake, in a mixing bowl, blend oil, buttermilk, eggs, vanilla, vinegar and food coloring until combined. Slowly add in dry ingredients.
Pour cake batter into 9-inch cake pans that have been sprayed with baking spray and have parchment paper circles in the bottom. Bake in a 350 degree oven for 32-34 minutes, until toothpick comes out clean.
Remove cakes from pan and cool completely.
For the frosting, beat butter and cream cheese for several minutes. Add in vanilla, powdered sugar, and heavy cream. Beat for 3-4 minutes until fluffy.
To assemble cake, place one layer of red velvet cake on a cake plate. Top with frozen cheesecake (make sure to remove parchment paper circles) and place second layer of cake on top. Frost generously. Refrigerate covered cake until ready to serve!
Notes
Cake and Cheesecake layers can be made in advance and frozen until ready to assemble.