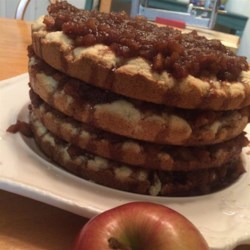 "This is an apple stack cake with six layers."
Ingredients
Cake Layers:
2 cups white sugar
1 cup shortening
2 eggs
1/2 cup buttermilk
1 teaspoon baking soda
3 teaspoons baking powder
6 cups all-purpose flour
1 teaspoon salt
2 teaspoons vanilla extract
Filling:
2 pounds chopped dried apples
2 1/2 cups water, or as needed
1 3/4 cups packed brown sugar
4 teaspoons ground cinnamon
1 teaspoon ground cloves
1 teaspoon ground allspice
Directions
Preheat oven to 450 degrees F (230 degrees C). Grease and flour six 8-inch pans.
In a large bowl, mix together white sugar, shortening, eggs, soda, baking powder, flour, salt, buttermilk, and vanilla. Batter will be thick. Divide batter into 6 equal parts and press into prepared pans.
Bake layers in preheated oven until edges are golden and tops spring back when touched lightly with a fingertip, about 10 minutes.
To Make Filling: Combine dried apples and water in a saucepan. Bring to a boil over medium-high heat. Reduce heat, cover, and simmer until apples are tender, about 25 minutes. Stir occasionally; add more water if needed to prevent sticking. Alternately, remove lid from pan if mixture is too wet. Remove from heat; mash apples slightly.
Stir in the brown sugar, cinnamon, cloves, and allspice. Lay 1 cake layer on a plate or platter and spread filling on top. Repeat with remaining layers, finishing by spreading filling on the top and sides of the cake. Top cake with waxed paper and wrap in plastic wrap. Let stand at least 12 hours before cutting.
ALL RIGHTS RESERVED © 2019 Allrecipes.com
Printed From Allrecipes.com 3/8/2019