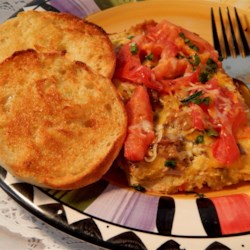 "Great to serve for weekend guests because you can get it ready in advance and have coffee or maybe a bloody mary with your guests while your breakfast cooks. Great served with sour cream and home made salsa."
Ingredients
1 (16 ounce) package bulk pork sausage with sage
6 flour tortillas, cut into 1-inch squares
4 (4 ounce) cans chopped green chilies
2 cups shredded Monterey Jack cheese
10 eggs
1/2 cup milk
1/2 teaspoon salt
1/2 teaspoon garlic salt
1/2 teaspoon onion salt
1/2 teaspoon ground black pepper
1/2 teaspoon ground cumin
2 tomatoes (or to taste), sliced
Directions
Heat a large skillet over medium-high heat. Cook and stir sausage in the hot skillet until browned and crumbly, 5 to 7 minutes; drain and discard grease.
Grease a 10×9-inch baking dish. Layer half the tortilla pieces into the bottom of the prepared dish; top with 2 cans green chilies, half the cooked sausage, and half the cheese, respectively. Repeat layering.
Beat eggs, milk, salt, garlic salt, onion salt, black pepper, and cumin together in a bowl; pour over the layers in the baking dish.
Cover baking dish with plastic wrap and refrigerate 8 hours to overnight.
Remove dish from refrigerator and let warm at room temperature for 30 minutes.
Preheat oven to 350 degrees F (175 degrees C).
Bake the casserole bake in the preheated oven for 50 minutes. Arrange a layer of tomato slices atop the casserole and continue baking until a knife inserted into the middle of the casserole comes out clean, 10 to 15 minutes more. Let casserole cool 10 minutes before cutting.
ALL RIGHTS RESERVED © 2019 Allrecipes.com
Printed From Allrecipes.com 3/8/2019