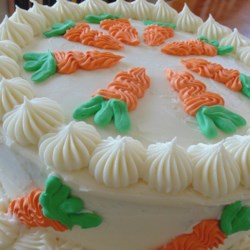 Carrot Cake with Pineapple Cream Cheese Frosting
"This rich, moist cake has all the flavor, without all the fat and calories. Because it is so full of carrots, pineapple, and nuts it is similar to a fruit bread. For the best flavor, bake the cake one day ahead."
Ingredients
cooking spray
Cake:
2 cups all-purpose flour
2 teaspoons baking soda
2 teaspoons ground cinnamon
1/2 teaspoon salt
2 eggs
1 1/2 cups white sugar
3/4 cup buttermilk
3/4 cup unsweetened applesauce
2 tablespoons vegetable oil
2 teaspoons vanilla extract
2 1/2 cups grated carrots
1 1/2 cups chopped pecans
1 (8 ounce) can crushed pineapple in juice, drained and juice reserved
Frosting:
1 (8 ounce) package Neufchatel cheese, softened
1 tablespoon reserved pineapple juice
1 (16 ounce) package confectioners' sugar
1 teaspoon vanilla extract
1 pinch salt
Directions
Preheat oven to 350 degrees F (175 degrees C). Spray a 9×13-inch baking dish with cooking spray.
Sift flour, baking soda, cinnamon, and 1/2 teaspoon salt together in a bowl. Lightly beat eggs in a bowl; add white sugar, buttermilk, applesauce, oil, and 2 teaspoons vanilla extract and mix well. Stir buttermilk mixture, carrots, pecans, and drained pineapple into flour mixture just until mixed; pour into prepared dish.
Bake in the preheated oven until a toothpick inserted in the center of the cake comes out clean, 45 to 50 minutes. Cool cake in baking dish on a wire rack, about 1 hour. Cover dish tightly with plastic wrap; refrigerate 8 hours to overnight.
Beat Neufchatel cheese and 1 tablespoon reserved pineapple juice together in a bowl with an electric mixer until smooth; add confectioners' sugar, 1 teaspoon vanilla extract, and 1 pinch salt and beat until frosting is smooth. Spread frosting on cake.
ALL RIGHTS RESERVED © 2019 Allrecipes.com
Printed From Allrecipes.com 4/11/2019