YIELD: SERVES 8-10
Enchilada Beef Rollups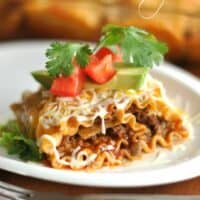 Cinco de Mayo is right around the corner. How about making some delicious Enchilada Beef Rollups!
TOTAL TIME
1 hour
5 minutes
Ingredients
15 lasagna noodles, cooked
2 lb ground beef (or ground turkey)
2 can (10oz) red enchilada sauce, divided
2 1/2 tsp ground cumin, divided
1 cup mozzarella cheese, shredded
8oz cream cheese, softened
2 cup colby jack cheese, shredded
Instructions
Prepare lasagna noodles according to package directions. Lay on large sheets of parchment paper.
Brown beef in large skillet until fully cooked. Drain. Add 1 can enchilada sauce, 1 1/2 tsp ground cumin and mozzarella cheese. Set aside.
In a small bowl, mix softened cream cheese with 1 tsp ground cumin until combined, set aside.
Pour 1/2 can of enchilada sauce in bottom of 13×9 baking dish. Using a small spatula, spread cream cheese mixture over lasagna noodles, using all the cheese until evenly coated. Top with ground beef mixture. Roll up each noodle (don't worry if some falls out) and place seam side down in baking dish. Repeat until all 15 noodles are in dish. Spoon leftover meat (that fell out onto the parchment paper) onto the noodles. Top with remaining 1/2 can of enchilada sauce. Finish with 1 cup of colby jack cheese. Cover with foil and bake in a 350 degree oven for 30 minutes. Remove foil and top with remaining cheese. Heat until cheese is melted, about 5 minutes.
To garnish, add avocado, lettuce, tomato, sour cream, cilantro, etc! Enjoy!
NUTRITION INFORMATION:
YIELD:
 8
SERVING SIZE:
 1
Amount Per Serving: CALORIES: 741 TOTAL FAT: 43g SATURATED FAT: 21g TRANS FAT: 1g UNSATURATED FAT: 17g CHOLESTEROL: 169mg SODIUM: 532mg CARBOHYDRATES: 36g FIBER: 2g SUGAR: 2gPROTEIN: 49g
*Nutrition facts are an estimate and not guaranteed to be accurate. Please see a registered dietitian for special diet advice.