Yield: 16 Servings
Pumpkin Crumb Cake
0.0 Stars (1 Reviews)Prep Time10 minutesCook Time1 hourTotal Time1 hour 10 minutes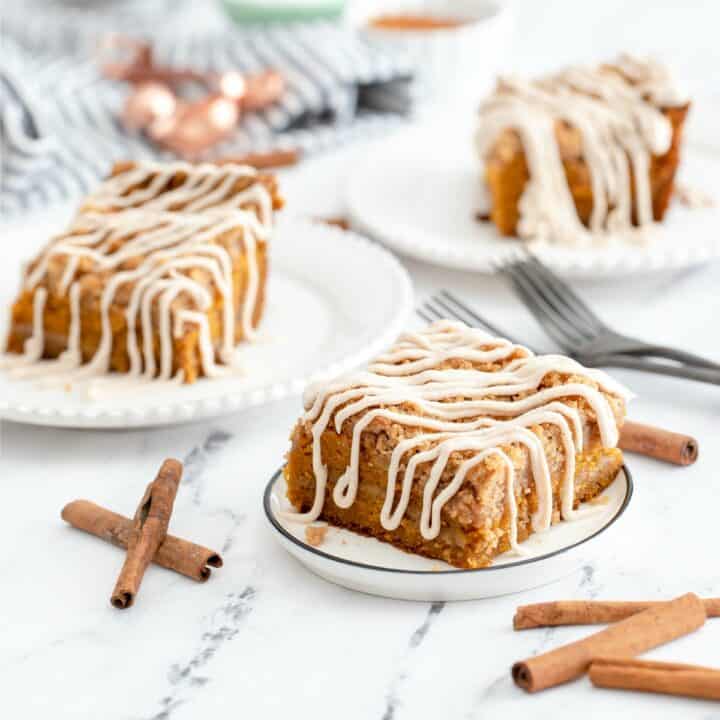 Pumpkin Crumb Cake – All the classic taste of pumpkin cake topped with cinnamon crumb and a sweet cream cheese glaze. Nothing says "fall" like a slice of this pumpkin coffee
Ingredients
For the Cake:
2 cups all-purpose flour
1 tablespoon baking powder
1 teaspoon salt
2 teaspoons ground cinnamon
15 ounces canned pure pumpkin puree
½ cup unsalted butter, melted and cooled
2 cups granulated sugar
2 large eggs, lightly beaten
½ cup sour cream
1 teaspoon vanilla extract
1 cup heavy cream
For the Crumb Topping:
8 ounces unsalted butter, cold, diced
2 cups light brown sugar, packed
2 cups all purpose flour
2 teaspoons ground cinnamon
For the Cream Cheese Glaze:
4 ounces cream cheese, softened
½ teaspoon ground cinnamon
¼ cup powdered sugar
½ cup milk
Instructions
Preheat the oven to 350F. Spray a 9×13 baking pan generously with baking spray, set aside. In a medium bowl whisk together the flour, baking powder, salt, and cinnamon, set aside.
For the crumb topping, combine cold butter, brown sugar, flour and cinnamon. Using your fingers, press and roll the cold butter with the other ingredients until the mixture resembles wet sand with some slightly bigger pieces of butter throughout. This may take a while, but it will come together! Set aside.
In a large bowl whisk together the pumpkin, butter, sugar, egg, sour cream, and vanilla. Alternating between the flour mixture and the cream, add ⅓ of the flour mix to the wet ingredients and stir until combined. Add ½ of the cream, stir to combine. Add another ⅓ of the flour mixture, stir to combine. Add the remaining cream, stir to combine. Finish with the remaining flour mixture and stir it in until there are no more dry patches.
Pour half of the batter into the prepared pan and smooth it over the bottom. Add ⅓ of the crumb mixture on top. Spread the rest of the batter over the crumb. Top everything with the remaining crumb.
Bake for 50-60 minutes until golden brown and a toothpick inserted into the center comes out clean. Place on a wire rack to cool.
Drizzle with the cream cheese glaze to serve.
Cream Cheese Glaze
In a medium sized bowl, add the cream cheese and mix with a hand mixer until smooth. Add the cinnamon and powdered sugar, mix to combine.
Slowly add in the milk a little at a time until it is pourable or to the consistency you prefer.
Recommended Products
Nutrition Information:
Yield: 16Serving Size: 1 slice
Amount Per Serving:Calories: 571Total Fat: 28gSaturated Fat: 17gTrans Fat: 0gUnsaturated Fat: 9gCholesterol: 98mgSodium: 276mgCarbohydrates: 78gFiber: 2gSugar: 51gProtein: 6g