Yield: 8 Servings
Apple Pie
Prep Time20 minutesCook Time55 minutesTotal Time1 hour 15 minutes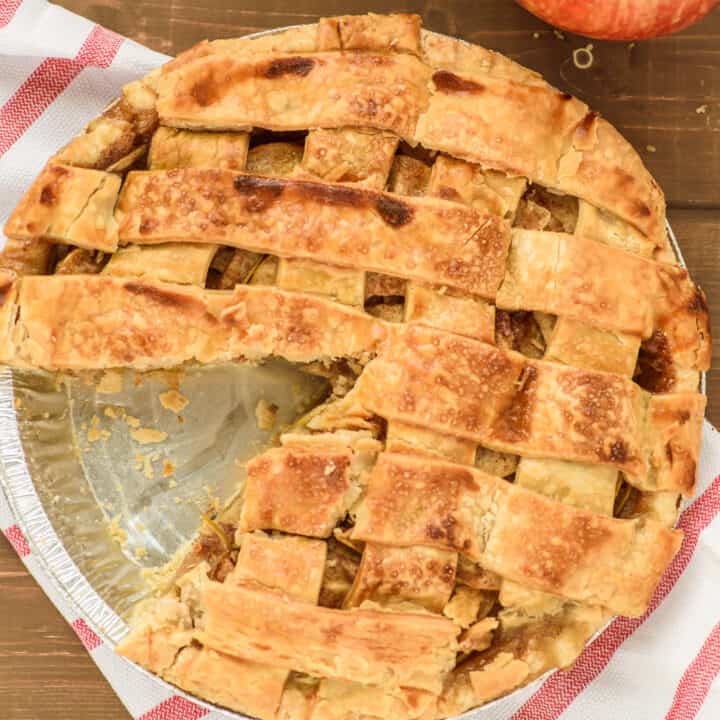 Flaky pie crust filled with delicious apples. This classic Apple Pie recipe is a family favorite!
Ingredients
2 pie crusts (homemade or store-bought)
4-5 medium apples, cored and sliced thin
1/4 cup granulated sugar
1/4 cup light brown sugar, packed
3 Tbsp all-purpose flour
1 Tbsp lemon juice
2 tsp ground cinnamon
1/8 tsp nutmeg
2 Tbsp unsalted butter, cut into small pieces
1 egg (for egg wash)
1 Tbsp water (for egg wash)
1 Tbsp coarse sugar, optional, for topping
Instructions
Preheat oven to 450 degrees F.
Place sliced apples into a large bowl. Add sugars, flour, lemon juice, cinnamon, and nutmeg. Toss well to combine. Set aside for a few minutes.
Make the egg wash in a small bowl by whisking the egg with water. Set aside.
Roll out pie crust dough and place in a pie plate, trim edges if desired. Carefully pour the apple mixture into the uncooked pie shell.
Place dabs of butter around the top of the apples.
Place the second pie crust over the top and trim edges, crimping first to seal them together.
Brush the top of the pie crust with the egg wash and sprinkle with coarse sugar.
Place pie on a baking sheet and bake at 450 degrees for 15 minutes. Then reduce heat to 350 degrees and continue to bake for 35-40 minutes more.
Allow pie to cool before slicing.