Yield: 8 Slices
French Silk Pie
Prep Time30 minutesCook Time2 minutesAdditional Time2 hoursTotal Time2 hours 32 minutes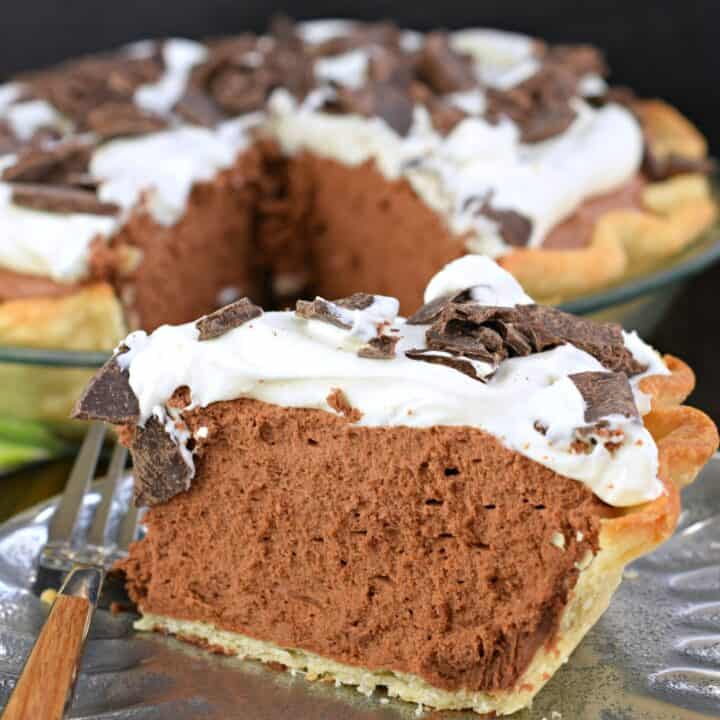 Smooth and decadent, French Silk Pie is a chocolate lovers dream! You'll love the flaky pie crust, topped with smooth and silky chocolate!
Ingredients
For the Chocolate layer:
1/2 box refrigerated pie crust, for one pie
4 oz unsweetened baking chocolate (100% cacoa)
1 cup unsalted butter
1 1/2 cup granulated sugar
2 tsp pure vanilla extract
4 large eggs (pasteurized)
For the garnish:
1 cup heavy whipping cream
2/3 cup powdered sugar
1 cup milk chocolate chips
Instructions
Prepare pie crust according to package directions (for a single crust pie). Allow pie crust to cool.
In a small microwave bowl, melt baking chocolate on high heat for one minute. Stir and heat again in 15 second intervals until melted and smooth. Set aside to cool.
In a large bowl, beat butter with sugar until fluffy (about 3 minutes). Slowly drizzle in the cooled chocolate and continue beating on medium speed. Add in vanilla extract.
Add eggs, one at a time, beating for about 5 minutes after each egg. DO NOT RUSH. This is what creates a light and fluffy texture to your pie! Once all the eggs have been added (about 20 minutes later, this is why you MUST have a KitchenAid stand mixer), pour this into your prepared pie crust shell!
For the garnish, beat the heavy cream for 3 minutes until it begins to form stiff peaks. Slowly add in the powdered sugar and beat until fluffy! Spread over the top of the pie. Refrigerate pie for at least two hours (or overnight).
For the chocolate curls (or pieces), melt chocolate chips in microwave dish for one minute. Stir until smooth, heating by additional 15 second increments until fully melted. Spread over a large piece of parchment paper, until very VERY thin. Roll parchment paper up into a tube shape (like a paper towel tube). Refrigerate until ready to add the garnish, at least 30 minutes. Unroll parchment paper and the pieces will break off into shards. Place on top of pie when ready to serve. ENJOY!