Yield: 60 Cookies
Ricotta Cookies
Prep Time15 minutesCook Time15 minutesAdditional Time1 hourTotal Time1 hour 30 minutes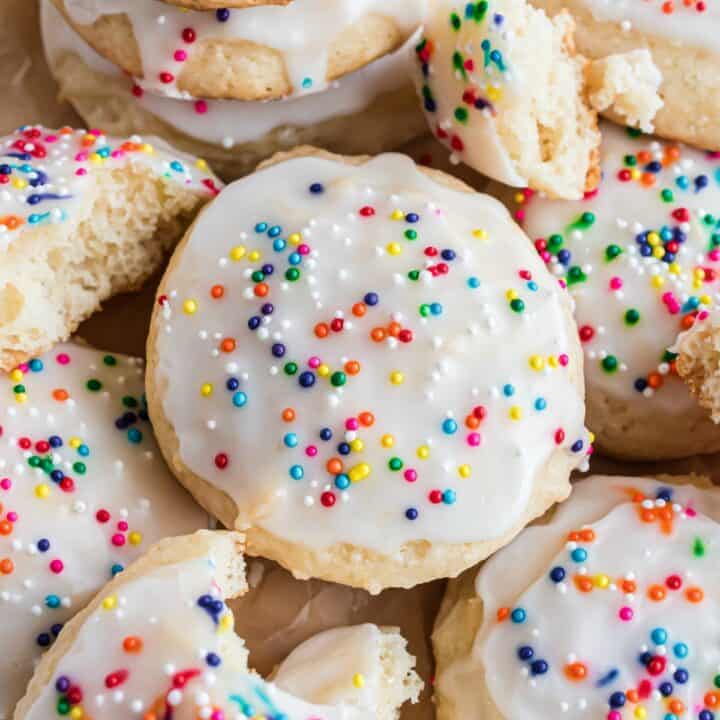 PinPrint
The soft, delicate taste of Italian Ricotta Cookies keeps everyone coming back for more. With so many ways to change up the flavors and sprinkles, you'll love making these treats any time of year!
Ingredients
For the Cookies
2 cups granulated sugar
1 cup unsalted butter, softened
1 container (15oz) ricotta cheese
2 teaspoons vanilla extract
2 large eggs
4 cups all-purpose flour
2 Tablespoons baking powder
1 teaspoon kosher salt
For the Icing
2 ¼ cups powdered sugar
3 Tablespoons milk
Red and green colored sugar (rainbow non parelis or rainbow jimmies for everyday)
Instructions
Preheat oven to 350 degrees F.
In a large mixing bowl, beat sugar and butter with a hand mixer until blended. Beat on high for about 5 minutes or until light and fluffy.
Beat in ricotta, vanilla extract and eggs on medium speed until combined.
Reduce speed to low and add flour, baking powder and salt. Continue to mix until the dough holds together. Don't overmix.
Drop by level Tablespoons (or use a small cookie scoop) onto an ungreased cookie sheet, leaving about 2 inches between cookies.
Bake 15 minutes or until cookies are slightly golden brown around the bottom edges. Cookies will remain soft. Carefully transfer cookies to a wire cooling rack.
In a small bowl, add the milk to the powdered sugar, a little at a time, until you get the desired consistency.
Once cookies have cooled completely, spread icing on the cookies or dip the tops of the cookie in the glaze. Decorate with rainbow sprinkles or red and green sugar.
Set cookies aside and let icing set up for about 1 hour.
Notes
FLOUR- Be sure to spoon and level flour, following my easy tips on how to measure flour. This helps prevent tough cookies.
Icing Tips: The icing should be spreadable, but not so runny that it doesn't stay on the cookie. The icing will begin to harden fairly quickly. I dipped 3-4 cookies and then decorated them before the icing got too hard.
STORAGE: Store cookies in an airtight container for up to 4 days. Use parchment or wax paper between the layers of cookies to prevent them from sticking together.
COOKIE SHEET: On a dark cookie sheet, these tend to brown quickly on the bottom. Cook time closer to 13 minutes. On a shiny cookie sheet, your cook time will be near 15-16 minutes. If they don't get browned on the bottom slightly, they will stick to the cooling rack. They need to be done. If the reader has this happen, they can use a metal spatula to help release the cookies from the rack, or line cooling rack with parchment paper.
Cook Completely. If the cookies are underdone, this can cause problems with dipping as they are easily broken. Icing can be spread on top if this happens.
FREEZE: After cooling, freeze unfrosted cookies in airtight container. Thaw overnight then frost.
FLAVOR: Change up the flavor and use almond, lemon, anise, or orange extracts. Replace 1 teaspoon of the vanilla extract with 1 teaspoon of flavor.