Fluffy Flapjack Pancakes  
  These are quick, easy, and yummy pancakes. They are flexible, too, according to your dietary needs. I have tried many recipes, and this one is simple and fail-proof! Fluffy flapjacks every time. Caution: very filling.Prep:10 minsCook:5 minsTotal:15 minsServings:8Yield:8 pancakes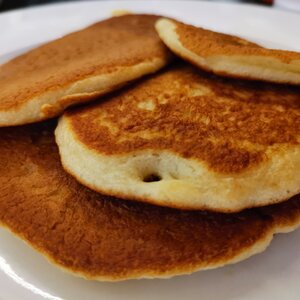 Ingredients
Ingredient Checklist
2 cups all-purpose flour
3 tablespoons white sugar
2 teaspoons baking powder
1 teaspoon baking soda
½ teaspoon salt
2 cups milk
2 eggs
¼ cup canola oil
cooking spray
Directions
Instructions Checklist
Step 1Whisk flour, sugar, baking powder, baking soda, and salt together in a bowl until no lumps remain. Add milk, eggs, and oil; whisk until batter is runny and well mixed.
Step 2Heat a nonstick griddle over medium heat and lightly spray with cooking spray. Pour in a portion of the batter. Cook until bubbles form, 3 to 4 minutes. Turn and cook, pressing middle gently with the spatula, until lightly browned on the other side, 2 to 3 minutes more. Repeat with the remaining batter.
Cook's Notes:
You can make this with all-purpose flour or whole wheat flour.
Tips
Use dairy-free milk substitutes or water in place of milk if desired.© Copyright 2021 allrecipes.com. All rights reserved.Printed from https://www.allrecipes.com 01/30/2021