Yield: 12 Servings
Sugar Cookie Cake Recipe
0.0 Stars (1 Reviews)Prep Time5 minutesCook Time25 minutesTotal Time30 minutes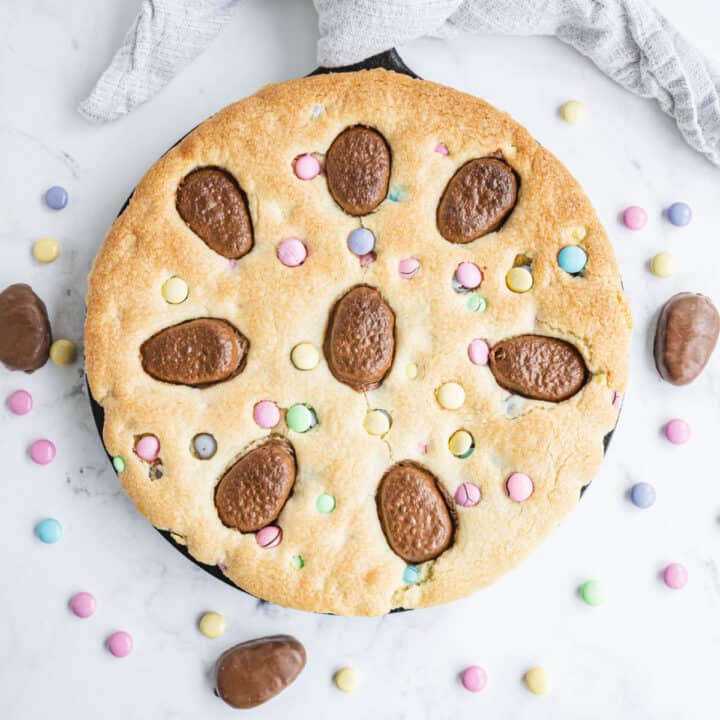 This Sugar Cookie Cake has everything you love about your favorite cut out treats, only it's baked as one GIANT cookie the size of a cake. M&Ms and peanut butter cups make this cookie cake even better. Perfect for holidays and only 5 ingredients!
Ingredients
1 package Betty Crocker Sugar Cookie Mix
1 Stick (/2 cup) of butter softened
1 Egg
½ cup of pastel M&Ms
8 Reese Peanut Butter Egg
Instructions
Preheat the oven to 350. Spray the bottom of a 9" pie plate or cast iron skillet.
In a large bowl mix together the cookie mix, softened butter and egg.
Next fold in the M&M's
Press the dough into a pie plate or cast iron skillet. Press the egg-shaped candies lightly into the dough.
Bake for 25-30 minutes or until the edges are golden brown and the center is set. Cool completely before cutting.
Notes
Swap out the candies and colors for different seasons
Pipe on some sugar cookie frosting for more flavor and fun!
Want your Reese's eggs smooth? Press them in AFTER baking instead, like you would for Peanut Butter Blossoms.
Use a pie plate or cast iron skillet. Make sure to spray the bottom of the plate or skillet with baking spray first. For best results, press dough as evenly as possible.
Can serve warm with vanilla ice cream.
Nutrition Information:
Yield: 12Serving Size: 1 slice
Amount Per Serving:Calories: 189Total Fat: 14gSaturated Fat: 4gTrans Fat: 0gUnsaturated Fat: 9gCholesterol: 36mgSodium: 147mgCarbohydrates: 11gFiber: 2gSugar: 5gProtein: 6g
*Nutrition facts are an estimate and not guaranteed to be accurate. Please see a registered dietitian for special diet advice.