Yield: Serves 16
Carrot Cake Cheesecake Cake
4.6 Stars (126 Reviews)Prep Time2 hoursCook Time2 hoursAdditional Time2 hoursTotal Time6 hours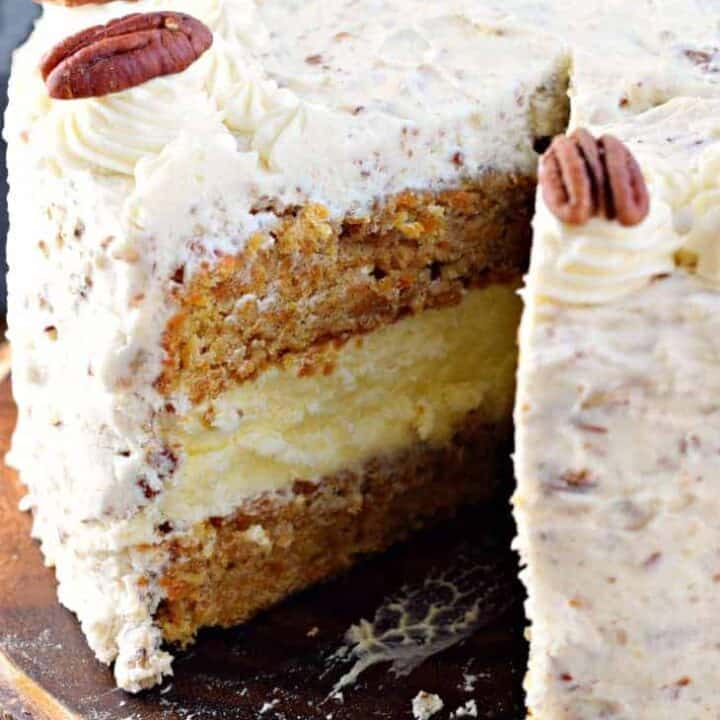 This Carrot Cake Cheesecake Cake recipe is a showstopper!
Ingredients
For the carrot cake:
2 cups granulated sugar
1 cup canola oil
4 large eggs
2 cups all-purpose flour
1 tsp baking soda
1 tsp baking powder
¼ tsp kosher salt
2 tsp ground cinnamon
2 cups shredded carrots
For the cheesecake layer:
2 packages (8 oz each) cream cheese, softened
1 cup granulated sugar
¼ tsp kosher salt
2 large eggs
¼ cup sour cream
⅓ cup heavy whipping cream
For the frosting:
1 cup unsalted butter, softened
1 package (8 oz) cream cheese, softened
1 tsp vanilla extract
¼ cup heavy cream
4 cups powdered sugar
1 cup chopped pecans
Instructions
For the cheesecake layer:
Prepare the cheesecake layer first. This can be done early in the day, or the night before. If freezing the cheesecake, can be stored 1-2 weeks in the freezer.
Preheat oven to 325 degrees. Using a large roasting pan, add 1 inch of water to the pan. Place it on the lower ⅔ of the oven! Allow it to preheat in the oven.
Prepare 9-inch springform pan by lining the bottom (inside) with a circle of parchment paper.
Beat cream cheese with granulated sugar for 2-3 minutes until creamy. Add in salt and eggs, one at a time, beating well after each addition.
Beat in sour cream and heavy cream, until light and fluffy (about 2 minutes). Pour into prepared 9-inch springform pan. Place pan in center of oven, on a rack just above the water bath (you don't have to actually put the pan in the water to achieve the same results)
Bake cheesecake for 45 minutes. Turn oven off and let cheesecake sit in oven for an additional 30 minutes. Remove and cool completely on counter.
When cooled, remove outside portion of the springform pan and place into the freezer for several hours or overnight. I put it in freezer for about 2 hours. If using within 24 hours, feel free to just refrigerate cheesecake!
For the carrot cake layers:
Preheat oven to 350 degrees F. Grease and flour two 9-inch cake pans. I use Wilton Bake even strips to ensure nice, even cakes. Set aside.
In a large mixing bowl, combine sugar, oil and eggs until blended. Add in flour, baking soda, baking powder, salt, and cinnamon. Beat for about 2 minutes. Add in shredded carrots. Pour into prepared cake pans.
Bake for 30 minutes. Cool on wire rack for ten minutes. The remove from pans and cool completely.
For the frosting:
In a large mixing bowl, combine cream cheese and butter. Beat with whisk attachment for 3 minutes. Add in sugar, vanilla, and heavy cream. Beat for 3-4 minutes until light and fluffy. Fold in chopped pecans.
To assemble the cake, layer one layer of carrot cake. Add the cheesecake then top with second layer of carrot cake. Spread on the frosting, first on sides then on top!
Store in the refrigerator, covered, for up to 3 days. ENJOY
Notes
Plan Ahead. Plan making this cake a day in advance. I made the cheesecake one night, then the next morning I baked the cake layers. In the afternoon I whipped up the frosting and assembled the cake.
Water Bath. The added moisture from the water bath helps to keep this cheesecake super soft and delicious! The cheesecake doesn't have to sit in the water bath to achieve the same results!
Freeze the Cheesecake Layer. You can make the cheesecake layer further in advance by wrapping tightly and storing in the freezer until ready to use. I've made it up to a week in advance and kept it frozen until ready to use.
Carrot Cake. I used my favorite carrot cake recipe, from scratch. But if you want, feel free to use a carrot cake mix or even a spice cake mix. I'll never know! To keep my cake layers thick and even, I use Wilton Bake Even strips. These are amazing and work like a charm EVERY SINGLE TIME. No need to level off the tops of your cake and create waste!
Frosting. I love adding chopped pecans to my cream cheese frosting. If you prefer a smooth frosting, just sprinkle them on the cake after frosting it. OR, add the chopped pecans to your carrot cake before baking.