Yield: 50
Flower Candy
5.0 Stars (1 Reviews)Prep Time15 minutesCook Time5 minutesTotal Time20 minutes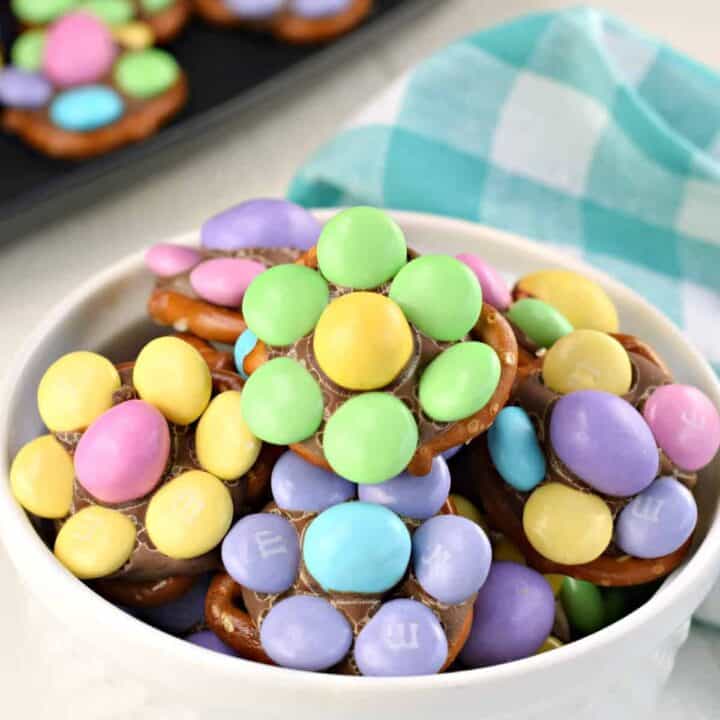 Make these adorable Flower Pretzel Bites 
Ingredients
50 mini pretzel twists
50 Hershey kisses (your choice in flavor)
50 large M&M (flavored or peanut work best)
250 milk chocolate M&M's
Instructions
Preheat oven to 200 degrees. Cut a piece of parchment paper to fit on a large baking sheet. Arrange pretzels on parchment paper.
Unwrap Hershey kisses and place one on top of each pretzel. Put baking sheet in preheated oven and bake for about 5 minutes.
Remove from oven and immediately press large M&M in center of Hershey kiss. Arrange 5 smaller ones around the edges to look like petals of a flower. Repeat until finished.
Allow to set on counter or refrigerate for 30 minutes. Store in covered container in refrigerator so chocolate doesn't melt. Enjoy!
Nutrition Information:
Yield: 50Serving Size: 1
Amount Per Serving:Calories: 159Total Fat: 24gSaturated Fat: 21gTrans Fat: 0gUnsaturated Fat: 22gCholesterol: 59mgSodium: 559mgCarbohydrates: 191gFiber: 10gSugar: 148gProtein: 22g
*Nutrition facts are an estimate and not guaranteed to be accurate. Please see a registered dietitian for special diet advice.