Yield: 12 Servings
Lemon Cake with Lemon Curd Frosting Recipe
4.7 Stars (13 Reviews)Prep Time15 minutesCook Time25 minutesAdditional Time2 hoursTotal Time2 hours 40 minutes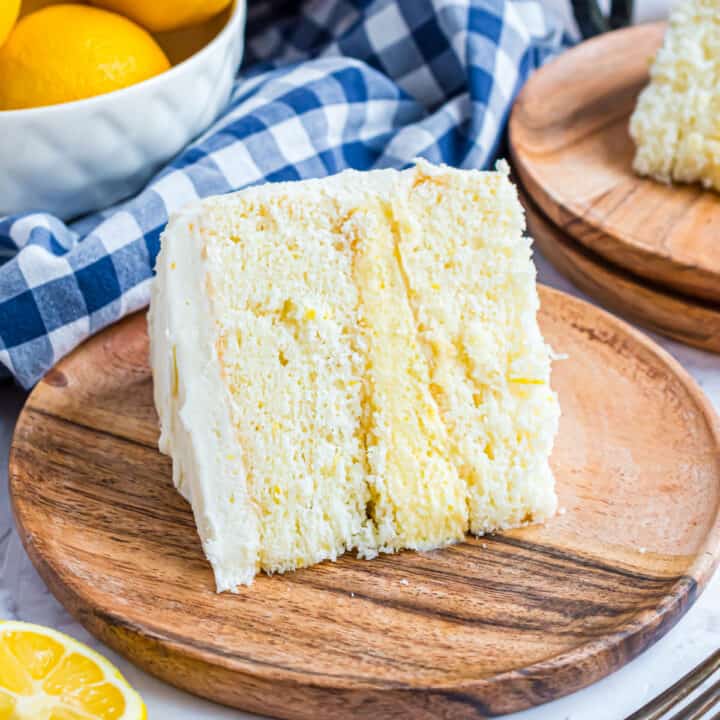 PinPrint
Homemade Lemon Cake with a middle layer of creamy lemon frosting and fresh lemon curd! Delicious and made entirely from scratch, this is one impressive cake. Yet easy enough for you to make too!
Ingredients
For the Cake:
5 egg whites, room temperature
¾ cup buttermilk, divided
2 lemons, zested (about 2 Tbsp of zest)
¾ cup unsalted butter, softened
1 ¾ cup granulated sugar
2 ½ cup cake flour
1 Tablespoon baking powder
½ teaspoon kosher salt
For the Frosting
1 cup unsalted butter, softened
4 cups powdered sugar
1 lemon, zested and juiced
2 Tablespoons heavy cream
¼ cup lemon curd**
Instructions
To prepare cake, grease and flour two 9-inch cake pans and line bottoms with parchment paper (cut circles to fit). Set aside.
In a small bowl, beat egg whites, ¼ cup of the buttermilk and lemon zest. Set aside.
In mixing bowl, beat butter and sugar until creamy, about 2-3 minutes. Add in dry ingredients and mix until combined. Slowly add in egg white mixture. Beat in remaining buttermilk.
Pour evenly into cake pans. Bake in a 350 degree oven for about 25-28 minutes, until toothpick comes out clean. Remove and cool in cake pans 5 minutes. Invert onto a wire rack and cool completely before frosting.
For the frosting, beat butter for 3-5 minutes until pale in color. Add powdered sugar, lemon zest and lemon juice (about 2 Tbsp from fresh lemon). Don't add the heavy cream yet. Beat for 3-5 minutes until fluffy. Remove 1 cup of this frosting mixture. Set aside for now.
To the big bowl of frosting add 2 Tablespoons of heavy cream and beat an additional 2-3 minutes until light and fluffy.
To make the filling, take that 1 cup of the frosting and add ¼ cup of lemon curd and beat until combined.
To assemble, place the first layer of the cake on a server or cake platter. Gently tuck strips of parchment paper under the cake to keep the frosting off your serving dish.
Spread the lemon curd frosting over the top of the cake.
Place the second cake layer on top of the filling and press down slightly to secure.
Spread the remaining frosting over the sides and the top of the cake. Remove parchment paper slips. Enjoy.
Notes
Lemon Curd. Use my recipe for homemade lemon curd or buy a jar from the store.
Egg Whites. It's easier to separate your eggs when they are cold. Save those egg yolks to make lemon curd.
Lemon cupcakes. You can use this lemon cake to make delicious Lemon Cupcakes.
Plan Ahead. Because you've got several components to this cake, plan ahead. Make the lemon curd the day before to make things easy. You can also bake the cake layers up to 1 day in advance as well. Wrap them in plastic wrap and store at room temperature.
Buttermilk. The tanginess of buttermilk not only gives flavor to this cake, but also creates a slightly porous yet fine crumb! None on hand? Use my buttermilk substitute recipe.
Freeze. This lemon cake freezes well. Wrap the leftover slices of cake in plastic wrap and place in airtight container (or freezer bag). Thaw in refrigeratore overnight.
How do I make my cake layers level? To make level layers of cake, you can slice the dome off the tops of a cooled cake using a serated knife. Or preven them from doming by using bake even strips instead!
Storage. Most layer cakes stay fresh at room temperature, if properly covered for several days.