Salmon Casserole SurpriseThis flavorful casserole is a comfort food dish!Prep:15 minsCook:45 minsTotal:1 hrServings:6Yield:6 servings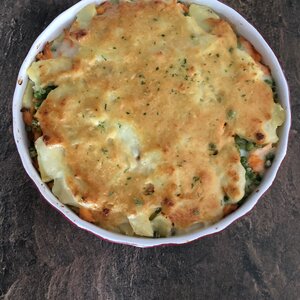 Ingredients
Ingredient Checklist
4 cups sliced potatoes
1 (16 ounce) can salmon, drained (liquid reserved) and salmon flaked
1 cup milk, or as needed
3 tablespoons butter
3 tablespoons all-purpose flour
½ cup mayonnaise
½ cup grated Parmesan cheese
1 teaspoon Worcestershire sauce
1 teaspoon prepared mustard
Directions
Instructions Checklist
Step 1Place potatoes into a large pot and cover with salted water; bring to a boil. Reduce heat to medium-low and simmer until tender, 10 to 15 minutes. Drain.
Step 2Mix reserved liquid from salmon and enough milk to make a total of 2 cups together in a measuring cup or bowl.
Step 3Preheat oven to 375 degrees F (190 degrees C). Generously grease a casserole dish.
Step 4Melt butter in a saucepan over medium-low heat. Stir flour into melted butter and cook until dissolved, about 1 minute. Gradually add milk mixture to butter-flour mixture; cook, stirring constantly, until sauce is thickened and smooth, 5 to 10 minutes.
Step 5Layer potatoes, salmon, and sauce, alternating 1 or 2 times, into the prepared casserole dish.
Step 6Whisk mayonnaise, Parmesan cheese, Worcestershire sauce, and mustard together in a bowl; pour over casserole.
Step 7Bake in the preheated oven until casserole is bubbling, about 30 minutes.
Nutrition Facts
Per Serving: 451 calories; protein 24.1g; carbohydrates 24g; fat 28.6g; cholesterol 64.2mg; sodium 557.7mg.© Copyright 2021 allrecipes.com. All rights reserved.Printed from https://www.allrecipes.com 06/03/2021