Yield: 28 Cookies
Oatmeal Raisin Cookies
4.7 Stars (20 Reviews)Prep Time15 minutesCook Time13 minutesTotal Time28 minutes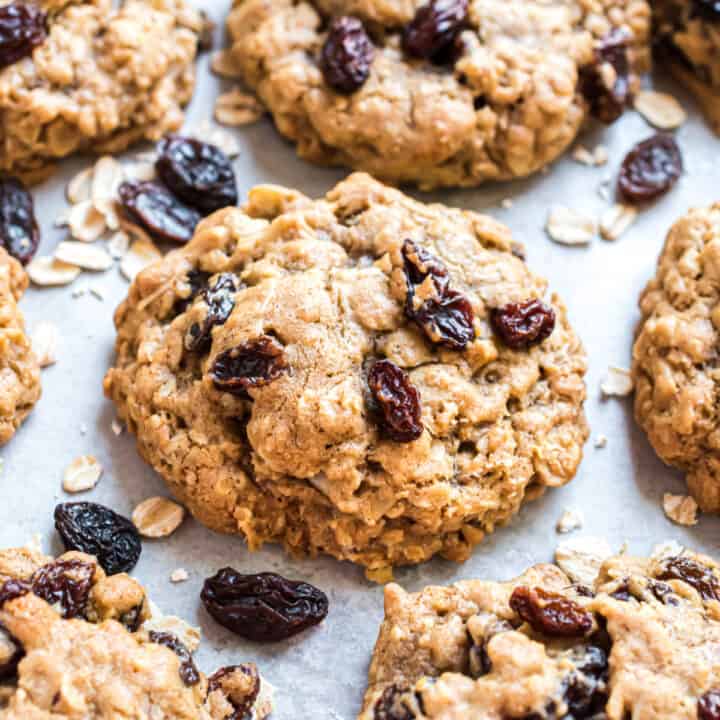 Soft and chewy, old fashioned Oatmeal Raisin Cookies with a hint of cinnamon and nutmeg! Delicious, homemade cookies like you enjoyed in childhood!
Ingredients
1 cup unsalted butter, melted
1 ½ cups packed DARK brown sugar
2 large eggs
2 teaspoons vanilla extract
1 ¾ cups all-purpose flour
2 teaspoons cinnamon
¼ teaspoon nutmeg
1 teaspoon baking soda
1 teaspoon kosher salt
1 Tablespoon cornstarch
3 cups old fashioned oats
2 cups raisins
Instructions
Preheat oven to 350 degrees F. Line a cookie sheet with parchment paper. Set aside.
In a large mixing bowl, beat butter with brown sugar for about two minutes. Scrape down the sides of the bowl as needed.
Add the eggs and vanilla extract, and beat for an additional minute.
Add flour, cinnamon, nutmeg, baking soda, kosher salt, and cornstarch. Mix on low just until combined.
Add in old fashioned oats and combine on low speed. Fold in all but ¼ cup of raisins.
Drop cookie dough by 2 Tablespoon scoop onto baking sheet. Press several raisins firmly into the top of the cookie dough.
Bake for 12-14 minutes. DO not overbake. The edges will beging to brown and the middle of the cookie may seem underbaked, but will continue to cook when removed from oven.
Allow cookies to sit on cookie sheet 5 minutes, then transfer to wire rack.
Notes
STORAGE: Store cookies in airtight container for up to 4 days. Or freeze for up to 3 months.
OATS: Do not substitute quick cook oats. They will absorb the moisture in the cookie and result in a dry, crumbly texture.
RAISINS: For best results, use fresh raisins. Or use a combination of raisins and GOLDEN raisins! To get plump raisins, soak raisins in warm water while you're making the cookie dough!
Dark Brown Sugar- the key to that molasses flavor that keeps these cookies moist! If you swap it out for light brown sugar, add a Tablespoon of molasses too!
Cornstarch- keeps these cookies soft for days!
Nutrition Information:
Yield: 28Serving Size: 1
Amount Per Serving:Calories: 197Total Fat: 8gSaturated Fat: 4gTrans Fat: 0gUnsaturated Fat: 3gCholesterol: 31mgSodium: 101mgCarbohydrates: 31gFiber: 2gSugar: 16gProtein: 3g
*Nutrition facts are an estimate and not guaranteed to be accurate. Please see a registered dietitian for special diet advice.