Yield: 16 Servings
The Best Chocolate Cake Recipe
4.9 Stars (33 Reviews)Prep Time30 minutesCook Time25 minutesTotal Time55 minutes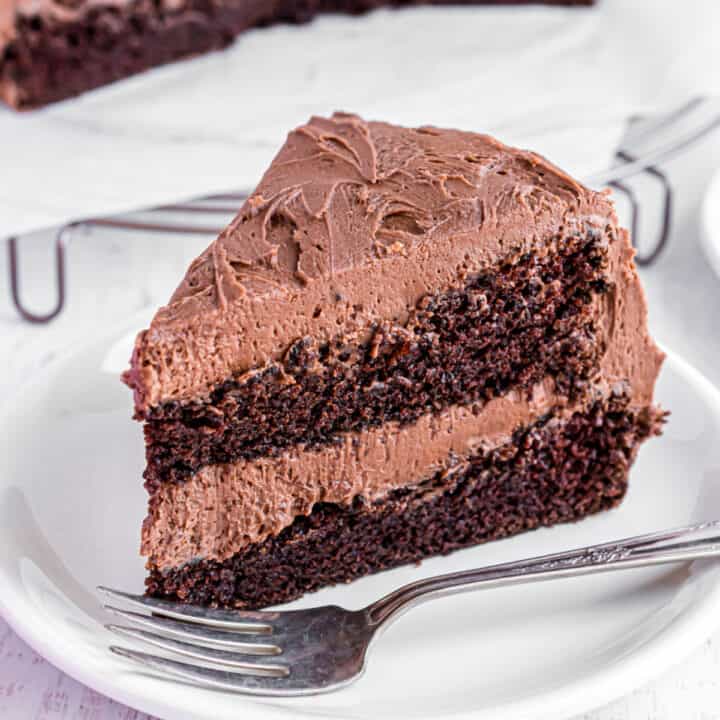 PinPrint
If you're looking for the most amazing Chocolate Cake with Chocolate Buttercream Frosting, look no further. This from scratch recipe is perfect.
Ingredients
For the Cake:
½ cup unsalted butter, room temperature
1 ½ cup granulated sugar
2 large eggs
1 ½ cup all-purpose flour
½ cup unsweetened cocoa powder
½ tsp kosher salt
1 tsp baking soda
½ tsp baking powder
½ cup brewed hot coffee
½ cup whole milk
For the Frosting:
1 cup butter, softened
3 ½ cup powdered sugar
½ cup unsweetened cocoa powder
1 tsp almond extract
½ cup heavy cream
Instructions
In a bowl, mix flour, cocoa, salt, baking soda and baking powder. Set aside.
In a measuring cup, mix together hot coffee and milk. Set aside.
In mixer, beat butter and sugar for 5 minutes, until smooth. Beat in eggs one at a time. Slowly add in dry ingredients alternating with the coffee/milk mixture (about 3 additions of each).
Pour cake batter into two prepared pans (2-9inch round cake pans, lined with parchment paper and greased and floured). Bake in a 350 degree oven for about 25 minutes. Remove and allow to cool about 10 minutes before removing from pans. Cool completely on parchment paper lined wire racks before frosting.
For the Frosting: In mixing bowl, beat butter for 3-5 minutes, scraping down sides of bowl as needed.
Add in powdered sugar, cocoa, extract and heavy cream and beat for 3-5 more minutes until desired consistency.
Frost cake and enjoy!