Yield: 18 Small Brownies
Salted Caramel Brownies
5.0 Stars (5 Reviews)Prep Time5 minutesCook Time40 minutesTotal Time45 minutes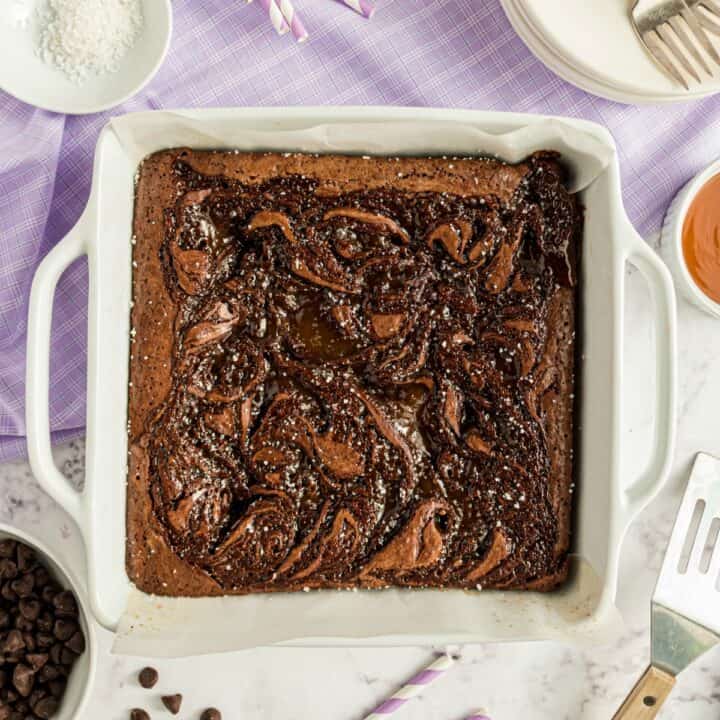 Salted Caramel Brownies need no introduction. Drizzled with caramel, loaded with chocolate and sprinkled with just a touch of sea salt, these gooey brownies prove it's okay to be a little salty
Ingredients
1 cup unsalted butter
½ cup semi-sweet chocolate morsels
2 cups granulated sugar
4 large eggs
1 tsp vanilla extract
¾ cup unsweetened cocoa powder
1 cup all-purpose flour
½ tsp kosher salt
½ tsp baking powder
⅓ cup caramel sauce (ice cream topping)
¼ tsp coarse sea salt
Instructions
Preheat oven to 350°F. Line a 9-inch square baking dish with parchment paper. Set aside.
In a medium sized saucepan, melt butter over medium heat. Remove from heat and add in chocolate chips and sugar.
Stir until chocolate is completely melted. Add in eggs, one at a time, stirring completely after each addition. Stir in vanilla.
Add the cocoa powder, flour, salt, and baking powder. Using big strokes, stir in JUST until mixed and no longer see dry ingredients. DO NOT BEAT OR OVER STIR.
Pour batter into dish. Drizzle with caramel topping and swirl with a knife.
Bake for about 35-40 minutes. Remove from oven and add coarse sea salt to top. Cool completely before cutting.
Notes
Do not over stir after adding the dry ingredients.
The Perfect Cut. Use a plastic knife! It works like a charm without ripping the brownies. Also, always make sure your brownies are cooled completely before you try to cut them.
Caramel Sauce– Any caramel ice cream topping will create delicious swirls of caramel perfection atop your brownies. I find the bottled sauce with the squeeze top makes it easiest to drizzle.
Salt Matters- The coarse sea salt adds a specific flavor that highlights the sweetness of the caramel without dominating it. If you don't have coarse salt, you could make these without the added salt on top for straight up caramel brownies instead!
Freezer Friendly– store cooled brownies in an airtight freezer safe container for up to three months. Thaw overnight.
Nutrition Information:
Yield: 18Serving Size: 1
Amount Per Serving:Calories: 268Total Fat: 13gSaturated Fat: 8gTrans Fat: 0gUnsaturated Fat: 5gCholesterol: 68mgSodium: 149mgCarbohydrates: 36gFiber: 1gSugar: 28gProtein: 3g
*Nutrition facts are an estimate and not guaranteed to be accurate. Please see a registered dietitian for special diet advice.