Yield: 24 Cookie Cups
Halloween Peanut Butter Cookie Cups
4.8 Stars (11 Reviews)Prep Time15 minutesCook Time14 minutesAdditional Time20 minutesTotal Time49 minutes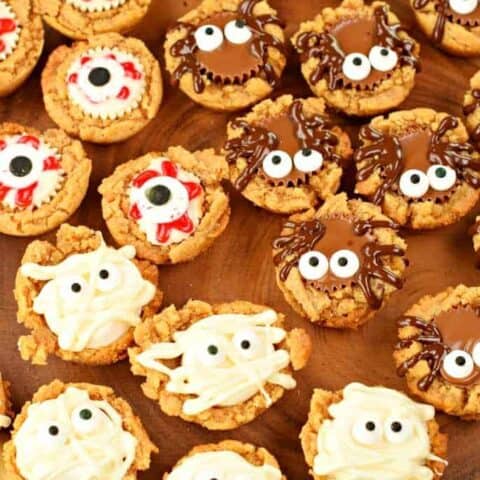 These Halloween Peanut Butter Cookie Cups start with a 3 ingredient, flourless cookie! Add your favorite candy and make a spooky treat this holiday!
Ingredients
For the cookies:
1 cup creamy peanut butter
1 cup granulated sugar
1 large egg
For the mummy cookies:
24 white chocolate Reese's cups (or 12 regular sized marshmallows, cut in half)
For the Spider cookies:
24 Reese's Peanut Butter Cup miniatures, unwrapped
For the Spooky Eyeballs:
24 Reese's White Chocolate Peanut butter cup miniatures, unwrapped (or 12 regular marshmallows, cut it half)
sparkly red gel
Instructions
Preheat oven to 350°F. Spray mini muffin tin with baking spray. Set aside.
In a bowl, combine peanut butter, sugar, and egg. Mix until well blended.
Using a 1 Tablespoon cookie scoop, drop by spoonfuls into tin. Bake for 12-14 minutes.
Decide which design you will make (if you're making a little of each, adjust ingredient amounts accordingly).
Remove pan from oven and immediately press your Reese's or marshmallow half into the hot cookie. Begin decorating (see notes below for steps)! ENJOY.
Notes
Have all your candy unwrapped so you can press them into your cookie cups immediately when taking them out of the oven! Allow the cookie cups to sit in the pan for about 10 minutes, then use a butter knife and they should POP right out!
For the mummy: you can use either white chocolate peanut butter cups or marshmallows (for a fun fluffernutter treat). Use melted white chocolate and drizzle it on the cookie to create the scraps of cloth! Don't forget the candy eyes!
For the spider: you can use either a peanut butter cup or a rolo for these fun treats. Then press your candy eyes on top and use melted chocolate to create the legs!
For the bloody eyeballs, you can use either a white chocolate peanut butter cup or marshmallow. Then use red gel to create the bloodshot look and the big candy eyes!
Nutrition Information:
Yield: 24Serving Size: 1 cookie
Amount Per Serving:Calories: 1018Total Fat: 60gSaturated Fat: 30gTrans Fat: 0gUnsaturated Fat: 16gCholesterol: 33mgSodium: 325mgCarbohydrates: 115gFiber: 3gSugar: 104gProtein: 16g
*Nutrition facts are an estimate and not guaranteed to be accurate. Please see a registered dietitian for special diet advice.