Yield: 8 Servings
Dutch Apple Pie
5.0 Stars (16 Reviews)Prep Time20 minutesCook Time1 hour 10 minutesTotal Time1 hour 30 minutes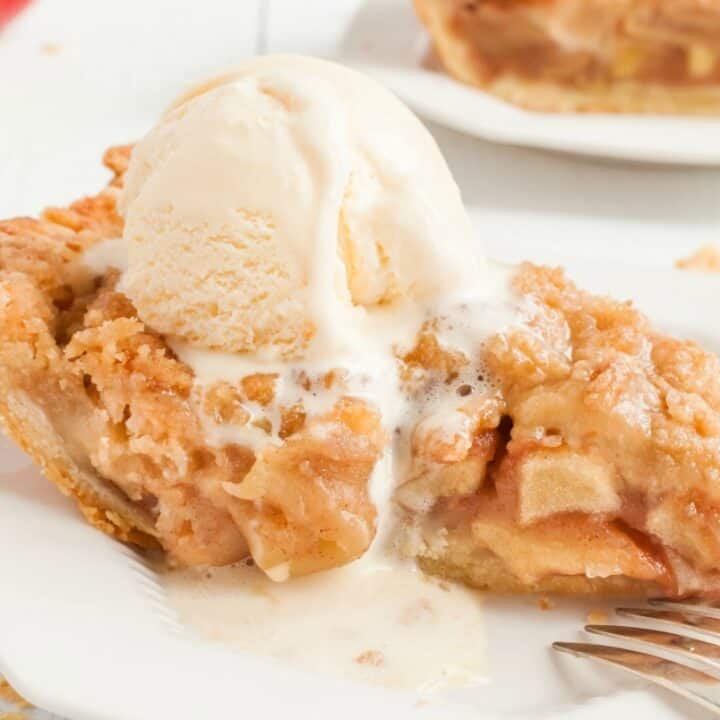 Dutch Apple Pie is just like a classic apple pie but served with a brown sugar crumb topping! Topped with vanilla ice cream or enjoyed solo, it's a comforting dessert everyone loves.
Ingredients
1 pie crust (homemade or refrigerated)
For the apple filling:
6 cups apples
½ cup granulated sugar
2 Tbsp light brown sugar, packed
¼ cup all-purpose flour
1 tsp cinnamon
¼ tsp nutmeg
1 Tbsp lemon juice
For the topping:
¾ cup all-purpose flour
¼ cup granulated sugar
¼ cup light brown sugar, packed
⅓ cup unsalted butter, cold
Instructions
Preheat oven to 375° F.
Peel and slice apples into a large mixing bowl. Add sugars, flour, spices and lemon juice. Stir to combine and set aside.
In a small mixing bowl, combine all ingredients for the crumble topping with a pastry blender.
Place pie crust or refrigerated crust (as directed) into a deep dish pie plate.
Add apple filling to pie crust.
Sprinkle crumble topping on top of apple filling.
Using foil, cover the edges of the pie crust.
Bake for 45 minutes.
Remove foil and bake another 25 minutes or until crust and crumb topping are browned and filling is bubbly.
Cool and enjoy!
Notes
I like to use a combination of Granny Smith and Golden Delicious apples in apple pie!
You can partially blind bake the pie crust before filling so it doesn't get soggy from the juices of the filing while baking. To do this, bake pie crust in 400 degree oven for about 10 minutes (you can use a pie shield and pie weights if desired).
Place the pie plate on the bottom rack of the oven closest to the heating element to ensure even cooking and a crisp bottom pie crust!
Recommended Products
As an Amazon Associate and member of other affiliate programs, I earn from qualifying purchases.
Nutrition Information:
Yield: 8Serving Size: 1
Amount Per Serving:Calories: 374Total Fat: 13gSaturated Fat: 7gTrans Fat: 0gUnsaturated Fat: 6gCholesterol: 20mgSodium: 95mgCarbohydrates: 62gFiber: 3gSugar: 37gProtein: 3g
*Nutrition facts are an estimate and not guaranteed to be accurate. Please see a registered dietitian for special diet advice.