YIELD: SERVES 6-8
Classic Stuffing Recipe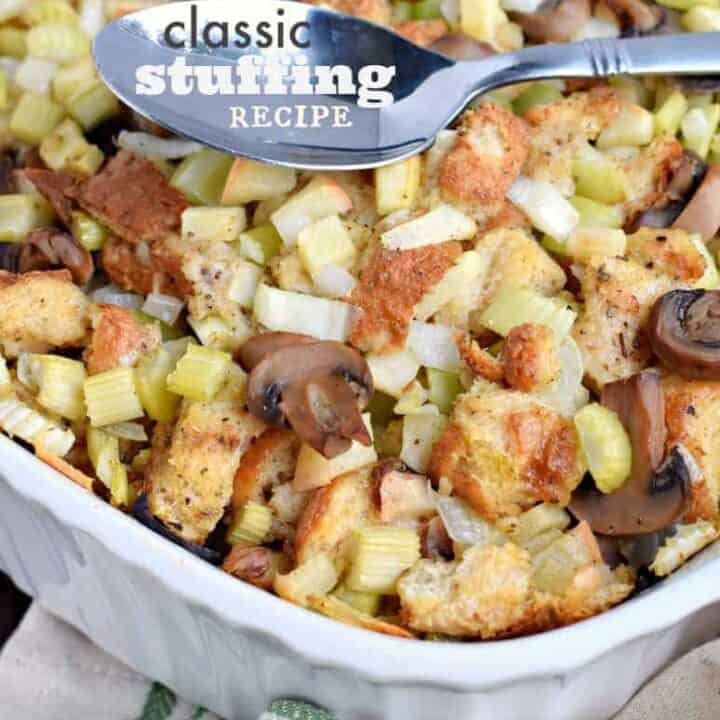 TOTAL TIME
1 hour
15 minutes
You'll love this Classic Stuffing recipe packed with flavor and perfect for Thanksgiving!
Ingredients
1 loaf (1 lb) bread (see notes below)
1 large egg
2 Tbsp water
1 celery heart, diced (about 1 1/2 cups)
1 small yellow onion, diced (about 1 cup)
2 jars (4 1/2 oz) sliced mushrooms, don't drain
2 tsp poultry seasoning
1 tsp dried sage
1 tsp kosher salt
1/2 tsp black pepper
Instructions
In a large mixing bowl, combine stale bread with egg, water, celery, onion, mushrooms, and seasonings. Combine well.
Press into a 9-inch square baking dish (about 2-3 quart). Once you have all your stuffing in the dish, press it in firmly.
Cover stuffing with foil. Bake for 60 minutes in a 350 degree F oven. You can make this a day ahead of time too! ENJOY.
Notes
For the bread, white or wheat is fine. I like to take my bread and let it sit open on the counter overnight, making it a little stale. Too fresh of bread will get soft and soggy.